We always go out Twick or Tweating for Halloween, but this was the first year that it was still warm enough to enjoy our garden AND we had pumpkins, a'cuz of the garden!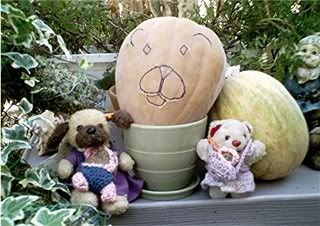 Of course, we'd have no pumpkins, if our daughters, Dee and Tine, didn't help them grow so well, so we needed a picture of them with the pumpkin they watched growing, as well as, the pumpkin that grew at the last minute in our neighbor's yard.
It was hard to see their pumpkin's face, so Mommy colored the lines with marker. Didn't our daughter's make a great stuffy face on it?! The pumpkin in the neighbor's yard had to be picked before it ripened all the way, so it's the yellow pumpkin.
We had our annual Halloween picture taken out in the garden this year. Can you tell who we are?
Level with the table top: Fuzzie Wuzzie, our Teddy Bear topiary (did you think he was one of us?! Kehehehehe), Dee dressed up like the Great Pumpkin, our daughters' pumpkin, in front of the yellow pumpkin is Pez dressed up as Axlerod's boot, next to him is Axlerod dressed up like a Teddy Bear, and that's original Garden Gnome looking on in the back. We invited the gnomes, but they wanted to keep their posts watching the garden. We did bring them some candy afterwards, of course. Tried to give the Teddy Bear topiary some also, but, since he didn't eat any, we ate for him.
In the back of the bench: Spaulding as a Philadelphia Eagle, Tine as Casper the FRIENDLY Ghost (she wants us to make sure everyone knows her ghost is friendly), and Teddy as another Philadelphia Eagle.
In the front row on the bench: Lady Pumpkin head, Ding and Tee as more Philadelphia Eagle, (our team could use our help this year, so we're all ready, when they call), Valentine Pumpkin head, and Woodland Gnome, who's just taking a nap, again.
After our picture was taken, we all hopped into our helioplaneship boxcar, and Halloweeneded like stuffies do – going from second floor window to second floor window, where stuffies give tweats without Peoples even noticing. We were having so much fun that we almost missed dinner! Hotdogs go beary well with lots and lots of candy!
Mommy and Daddy thought we had trouble sleeping last night, a'cuz we ate too much sugar, but, really?! How can anyone eat too much sugar?!
We did have trouble waking up today, but Daddy needed our help. The day after Halloween is pumpkin soup day! Of course, that got us wide-awake!
Welllllllllll, not making soup, reacting to our daughter's outburst! They've been hearing us talking about making pumpkin soup and making pumpkin pie for Thanksgiving and maybe Christmas, but they didn't realize we were talking about cutting up THEIR pumpkins! They thought we were going to buy pumpkins in a can. It took all of us – Daddy, Mommy, Ax, our wives, and us to calm them down! Even their bwuders were trying to help! Matter of fact, they were the ones to make them feel better! They s'plained that "Dolly," their pumpkin (never let your kids name anything you plan on eating some day), wasn't going to be pumpkin soup. Dolly would be pumpkin pie for Thanksgiving, so Dolly can stay for almost a month. (We didn't even know they named their pumpkin! We would have told them our plans before they did that, if we had known Peoples buy pumpkins in a can! How do they fit?! Is it a round, beary big can?!)
They stopped crying by then, but we still had to talk to them for another hour. They now considered us pumpkin murderers! Not a good thing to be consider by Daddies' little girls. Now, if you think that changing their minds would be easy, since picked pumpkins aren't alive – we have an important question to ask you: Why are you reading this much of a journal by Teddy Bears?!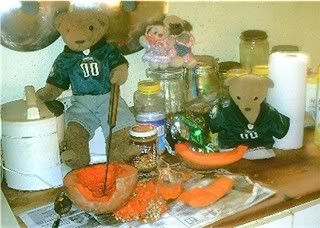 We finally talked them into watching us, so they would know we're treating the pumpkin as nicely as possible. We also reminded them that pumpkin soup is sweet and yummy! We think we convinced them, though, when Mommy told them how good pumpkin seeds taste when they are roasted! Good thing stuffies love to eat! Really good, since these pumpkin seeds don't taste good!
The pumpkin soup is sweet with no sugar added – just applesauce. Yummy! Our daughters love it too, but won't eat any in front of Dolly. Looks like we have some more talking to do with them.